Come fly with me, let's fly, let's fly away
Two founders from Dresden offer virtual sightseeing tours with video drones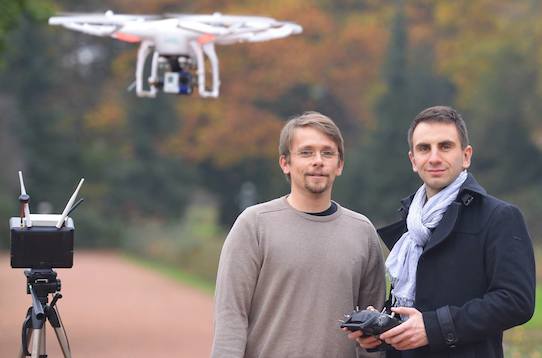 Dresden. It all began with back pain. Daniel Zenzipér (28) lay on a cot in the physiotherapy practice of Martin Göttert (34) to receive treatment for his afflictions. In doing so, they got into a nonchalant conversation about traveling. During this chat it suddenly struck them that it is especially for elderly people sometimes not easy to climb certain sights.
"There is for example no lift in the Frauenkirche in Dresden. Therefore not everyone can enjoy the view," says Zenzipér. That consideration was the birth of their company "Flightseeing". Live pictures from scenic flights that are streamed by quadrocopters, and that can be viewed on earth with video glasses – that was the notion of the two men from Dresden.
But although the single components still existed, it was hitherto just a dream. "Subsequently I did research on Internet forums and spoke with experts of the scene which technology suits best," says Zenzipér. A crucial point was the radio frequency for the video signal. After intense tests Daniel and Martin chose a 2.4 gigahertz WLAN frequency, because it was the best way to transmit a high-definition picture.
However, flights with quadro- or octocopers do not only have technical pitfalls …