Eco startup wants to rescue the Christmas tree
Two founders from Saxony are worried of all the Chrismas trees, which end up every year in the trash. That's why they had an idea.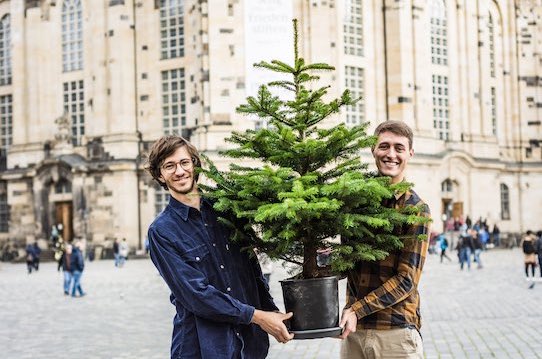 Dresden. It's the same every year. At first the Christmas tree is decorated, then it stays for some weeks in the apartment, before it ends up in the trash. Roughly 30 million trees come to an abrupt end this way every year in Germany. Two founders from Saxony don't like this kind of "tradition" and want to change it. With their startup "baumkind" they try to convince the customers to choose a different path.
Rent a Christmas tree
"We think it is a big waste that year after year many healthy trees end up in the trash. This is the reason why we offer Christmas trees in a pot. We deliver them to the home of the people and collect it after Christmas," says Moritz Kormann (25) who started the business together with Nick Dühr (26). This year they offer only one sort of tree: the Nordmann fir. The reason is simple – it's the most popular Christmas tree in Germany. Next year other sorts of trees shall follow.
Service starts in Dresden und Leipzig
In the metropolitan areas of Dresden and Leipzig trees within a size range from 1,20 meter to 1,40 meter are available. The service costs including delivery and collection 75 euros. All christmas trees are not from the region but rather from a wholesaler shortly after the Danish border. "Since we buy many trees at once the CO2 emissions for every single tree are not that high. Additionally we compensate the emissions with further reforestation," explains Moritz Kormann. All trees are planted after Christmas 70 kilometers north of Dresden in Wiesenhagen near Trebbin in the state of Brandenburg.