These founders look into your clothes
The Dresden based startup Senorics launches it's first evaluation kit. The founders will present the test device at the Consumer Electronics Show (CES) in Las Vegas.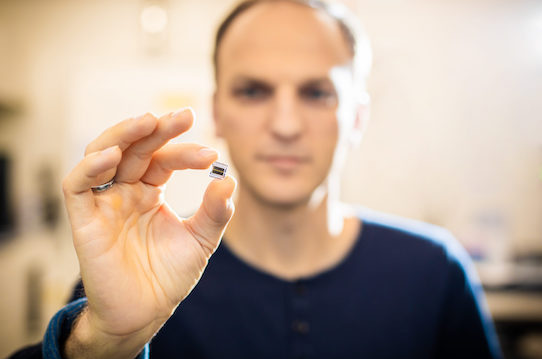 Dresden/Las Vegas. Is the blouse made of silk? Or is there polyester in the T-shirt? Now it's easy to find out. The Dresden-based company Senorics is launching an evaluation kit for its sensor technology. Customers can analyze the ingredients of various products by using infrared light. The test device initially demonstrates this using various textile materials.
No complex laboratory technology needed
The high-tech startup Senorics specializes in novel near-infrared spectroscopy sensors that are smaller than a one-cent coin. With the handheld measuring devices developed from this, analyzes can be carried out that previously only worked with large spectrometers in the laboratory. In infrared spectroscopy, a sample is irradiated with infrared light. On the basis of the wavelength distribution of the reflected light, ingredients can be recognized and their amount can be determined.
This technique also enables the detection of contaminants in a variety of liquid and solid substances. In addition to a measuring device, including cable and battery pack, the evaluation kit also contains a software for evaluating the results. "The device has two functions," explains Robert Langer, one of the four founders of Senorics. On the one hand, the determined spectrum of the analyzed material can be displayed in the software. On the other hand, an algorithm enables the correct material …