Dresden Startup programs robots by pen
With the TracePen, the Wandelbots team is launching its first product available in larger quantities. As with the sensor jackets, the target group is medium-sized companies.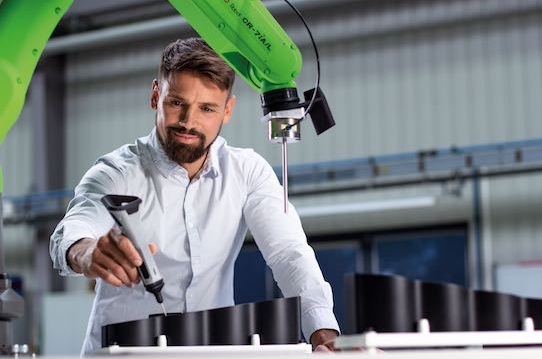 Dresden. News from Wandelbots. After the Dresden-based start-up has so far "taught" industrial robots by means of a sensor jacket, there is now another product: the TracePen. "We are very proud of it, because the TracePen is the first Wandelbots product available in larger quantities", says CEO Christian Piechnick.
Software visualizes movement
In practice this works as follows: A user takes the TracePen in his hand and shows him the way or path to be learned on a workpiece. This movement is visualized almost simultaneously by the software of Wandelbots in the app belonging to the product. The user can then further refine the path on the iPad intuitively and in the sub-millimeter range.
You can define whether the robot should move from point to point, linearly or circularly between the defined points. An integrated joint control allows the user to directly influence the individual robot joints. He can also define a specific safety area in which the robot is allowed to operate. If the path meets the requirements of the process step, the operator of the app transfers it to the robot.
Wandelbots' software translates the path into the respective robot-specific programming language. A few seconds later, the robot can begin to execute the newly "learned" movements on the workpiece to be machined precisely.…