Dresden Startup programs robots by pen
With the TracePen, the Wandelbots team is launching its first product available in larger quantities. As with the sensor jackets, the target group is medium-sized companies.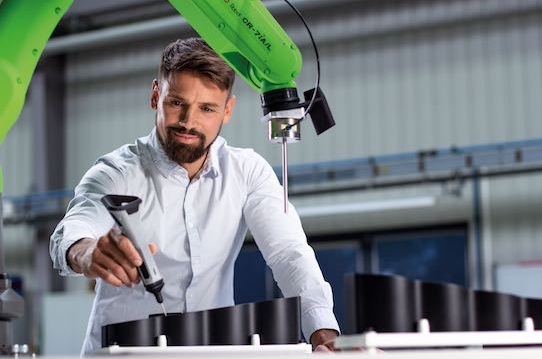 Dresden. News from Wandelbots. After the Dresden-based start-up has so far "taught" industrial robots by means of a sensor jacket, there is now another product: the TracePen. "We are very proud of it, because the TracePen is the first Wandelbots product available in larger quantities", says CEO Christian Piechnick.
Software visualizes movement
In practice this works as follows: A user takes the TracePen in his hand and shows him the way or path to be learned on a workpiece. This movement is visualized almost simultaneously by the software of Wandelbots in the app belonging to the product. The user can then further refine the path on the iPad intuitively and in the sub-millimeter range.
You can define whether the robot should move from point to point, linearly or circularly between the defined points. An integrated joint control allows the user to directly influence the individual robot joints. He can also define a specific safety area in which the robot is allowed to operate. If the path meets the requirements of the process step, the operator of the app transfers it to the robot.
Wandelbots' software translates the path into the respective robot-specific programming language. A few seconds later, the robot can begin to execute the newly "learned" movements on the workpiece to be machined precisely.
Another advantage is that the learned process step can be transferred to other robots from other manufacturers. According to Wandelbots, this possibility did not previously exist in the automation world.
Pilot project with car manufacturers
Wandelbots sees potential uses for the TracePen primarily in rail-guided applications such as welding, deburring, gluing or spraying. In initial pilot projects with well-known automobile manufacturers, the company has been able to prove that the changeover to a new process step using the TracePen is 70 times faster than with conventional programming – and this with a cost reduction of up to 90 percent.
This increase in efficiency also makes the use of robots a sensible option for industries, companies and company sizes that previously shied away from the high running costs. Delivery of the TracePen is scheduled to begin in August 2020. The demand is great, reports Christian Piechnick: "First customers have already signed contracts."
About Wandelbots:
Wandelbots is a spin-off from the Dresden University of Technology. The company was founded in 2017 by Christian Piechnick together with five doctoral students of the TU Dresden, based on the idea of his wife Maria Piechnick to use intelligent clothing to control robots. At the time she was writing her doctoral thesis on the subject of wearables. Wandelbots' customers now include well-known industrial groups such as Infineon and Volkswagen.