The Hightech Climate Protectors from Dresden
While some stick to the streets to demonstrate against the climate crisis, there are also smart solutions from science against climate change. The Dresden-based startup Herone has developed one of them.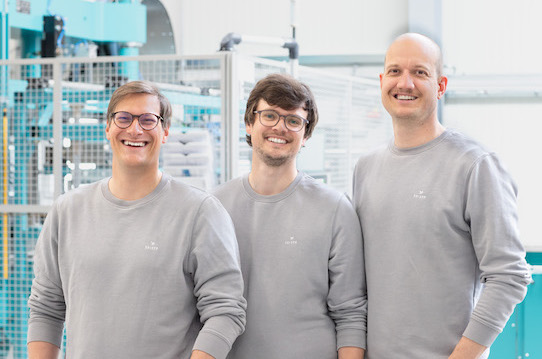 Dresden. The lighter an aircraft is, the less kerosene is needed. As a result, CO2 emissions drop. That's the theory. In practice, however, it's not quite so simple. Complex research is often required to optimize the weight of passenger jets, for example. However, the Dresden-based company Herone proves that it is possible.
Carbon instead of metal for aircraft cables
"We have developed a technology with which the hydraulic lines in aircraft can be made of carbon fibers instead of metal," says Herone co-founder and CEO Christian Garthaus. According to the founder, the challenge was to press the carbon fibers embedded in plastic, after they had first been braided, so that they would not be crushed. This is the only way to produce hollow bodies such as tubes.
50 percent weight savings thanks to new components
"We achieved this by applying pressure to the material in such a way that it is pressed from the inside out," explains the founder, who initially drove the project forward for ten years at the TU Dresden together with his comrades-in-arms before the company was founded in 2018. Even then, the scientists were working closely with well-known aircraft manufacturers such as Airbus and Boeing, who had high hopes for the project. "If you replace the metallic components in the aircraft, you can save up to 50 percent of the weight," says Garthaus.
Dresden company benefits from hydrogen projects
In addition to hydraulic lines in aircraft, there are other areas where carbon fiber tubes are in demand. One major topic at Herone is currently aircraft lines for hydrogen. "We are active in several hydrogen projects. Airbus, for example, wants to produce the first aircraft powered by hydrogen by 2035. But this requires suitable lines," says Herone authorized signatory and co-founder Alexander Rohkamm.
Extreme challenges for materials
If you want to fly with hydrogen, he says, it has to be cooled to minus 253 degrees so that it becomes liquid. "That's an extreme challenge for the materials because, of course, they can't crack. The lines have to reliably carry hydrogen from the tank to the engine over the life of the aircraft," says the founder. Airbus has more than 1,000 people working on this issue, and Herone is involved in this research program, Rohkamm says.
Up to 10,000 components a year planned
Although Herone's genesis is closely tied to hydraulic lines, the team is also focusing on other product groups. For example, the company's components could also replace tie rods in airplanes, which are used to attach overhead compartments.
"The compartments are supported in the aircraft toward the rear in the fuselage with a tension strut," explains Christian Garthaus. In addition, he says, it is possible to integrate the components into drive shafts that are located in the wings and control the landing flaps there. In its new production facility in the north of Dresden, Herone says it plans to produce several thousand to 10,000 carbon components per year for these and other purposes.
Bicycle handlebars made from recycled carbon fibers
If carbon fibers are left over during the production of the components, this is not a problem either. Because recycling is also a top priority at Herone. This is not only good for the environment, but also opens up new business areas. Although the Dresden-based company focuses on aerospace, it is now also involved in the sports and leisure sector.
"Among other things, we have produced a bicycle handlebar from recycled carbon fibers that is characterized by particularly good damping properties," says Alexander Rohkamm. The special thing about this type of recycling, according to the founders, is that the high-performance properties of carbon are retained. This is a clear difference to existing, bonded carbon fibers, for example in bicycle frames, which can hardly be repaired in the event of a crack or break.
Facts and figures:
– Herone GmbH was founded in May 2018 as a spin-off from TU Dresden.
– The company currently has twelve employees.
– The team consists primarily of mechanical engineers (specializations: lightweight construction, plastics technology, aerospace technology).
– The name Herone is plural because it is based on two models: the mathematician and engineer Heron of Alexandria (which stands for automation) and the heron, which is a symbol of lightweight construction for those responsible at Herone.